Da nicht alle Zugang zu facebook haben, an dieser Stelle:
Mr. Umaru Jah (Botschaft Sierra Leone in Berlin) hat das folgende Protokoll verfasst.
Sierra Leone Embassy in Germany Celebrates Independence: 
Encourages Humanitarian Organizations to do more
By Umaru S. Jah — Germany
The Embassy of Sierra Leone in the Federal Republic of Germany on Saturday 30th April 2016 assembled its compatriots, friends and Non-Governmental Organizations (NGOs) across Germany, to commemorate the country's 55th Independence Anniversary.
Before the celebration commenced at the Chancery's building in Berlin, the Embassy held its annual meeting with the German NGOs to discuss issues relating to their respective work in the country. 
During the meeting, Ambassador Stevens reaffirmed Government's commitment to create an enabling environment through wide-ranging legal and policy frameworks, to promote the private sector and ensure a safe business environment for all. 
It is in light of the above that he said the Government of Sierra Leone is providing relevant financial and institutional support to NGOs, in the form of duty waivers, tax allowances and other facilities, to enable them develop, reinforce and sustain their organizational capacity.
The Ambassador further emphasized that all items for duty waiver concessions must bear relevance to the approved project of the applying NGO. This is because some NGOs have imported luxurious goods for monetization. Such items he said are not exempted from duty free waivers. 
He encouraged the NGOs to continue with their humanitarian activities in the county, thus complementing Government's efforts in meeting the basic social needs of its people.
The German NGOs have been extremely instrumental in several projects, mainly in the sectors of education, health and other social services. 
In appreciation for their tiring and relentless efforts towards the country's social service delivery, the Embassy has opted to issue a certificate of recognition to NGOs upon submission of a valid registration document from the Ministry of Finance and Economic Development in Sierra Leone. 
The Ambassador concluded by assuring the NGOs of his fullest support and cooperation in the implementation of their various projects across the country. 
Representatives from various NGOs expressed willingness to continue with their assistance projects and highlighted other specific areas of interest especially the energy sector. 
According to the President of Bintumani/Sierra Leone — a consortium of both German and Sierra Leonean philanthropists engaged in various humanitarian activities in the country, Dr. Jacob Ladipoh, the energy sector remains crucial in nation building. He believed that efforts made by the Government to provide energy supply in the country should be complemented. 
He disclosed that his organization is partnering with the Barefoot Women Solar Engineers in Sierra Leone, to introduce other sources of decentralized renewable energy such as wind, biogas and hydro. 
The Barefoot Women Solar Engineers are not only involved in bringing electricity to villages and schools in Sierra Leone, but empowering women and men to install and maintain the energy equipment as well. 
According to Dr. Ladipoh, his organization has also succeeded in bringing together the Milton Margai College of Education Science and Technology and the Barefoot Women Solar Engineers, to multiply the knowledge of what he described as 'off grid energy' in local communities. 
The Bintumani/Sierra Leone and other NGOS like Hilfe Direkt S/L, Mothers Helping Mothers, Loewe Fuer Loewe, Youth Development Project (YDP) and Frikolo amongst others, were very active in the fight against Ebola in Sierra Leone. They donated both financial and medical equipment to hospitals and communities in the country.
A barbecue grill, in commemoration of Sierra Leone's 55th Independence anniversary, climaxed the meeting. Many Sierra Leoneans and friends of Sierra Leone were in attendance.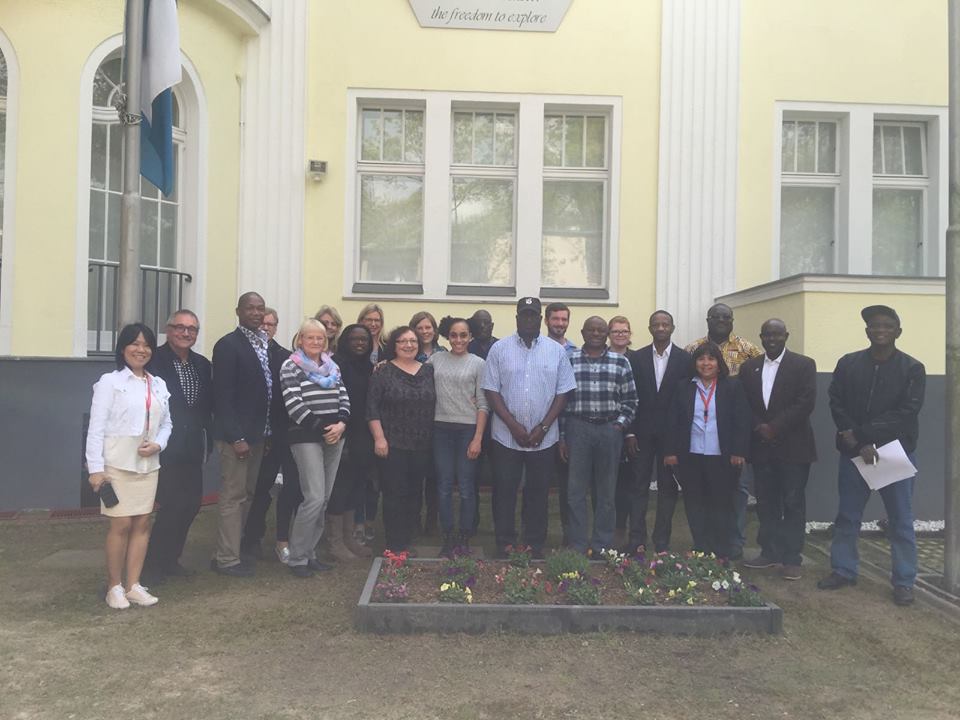 Quelle: Umaru Jah