Meni Curve (Magbapsa)
is a small town in the northwest of Sierra Leone. The pictures on the right give a small overview of the situation of the village. At a fork in the road, in the green area of the Little Scarcies river, 650 people live in about 60 houses. More than half of them are under the age of 18. In the village there is a primary school with 4 classrooms and a small infirmary. The families earn their living through agriculture and small trade. The nearest shop is 5 km away.

The living conditions are more than difficult. Water is fetched from the river 800 meters away. Usually by the women and children. A river that is also used for personal hygiene and washing clothes. In all houses of the village there is no electricity. The necessary light, after the short twilight period at night, is donated by burning black kerosene lamps. Unhealthy for the airways. This village stands in its structure for the majority of the villages outside the 5 larger cities in Sierra Leone.

Our partner organisation, the "barefoot women solar engineers", have suggested to us in talks to support the village Meni Curve. We have implemented this. In 2016 and 2017, 50 houses, the school and the infirmary were equipped with small photovoltaic systems. The kerosene lamps will then be a thing of the past. The infirmary will also have a refrigerator for safe storage of the medicines.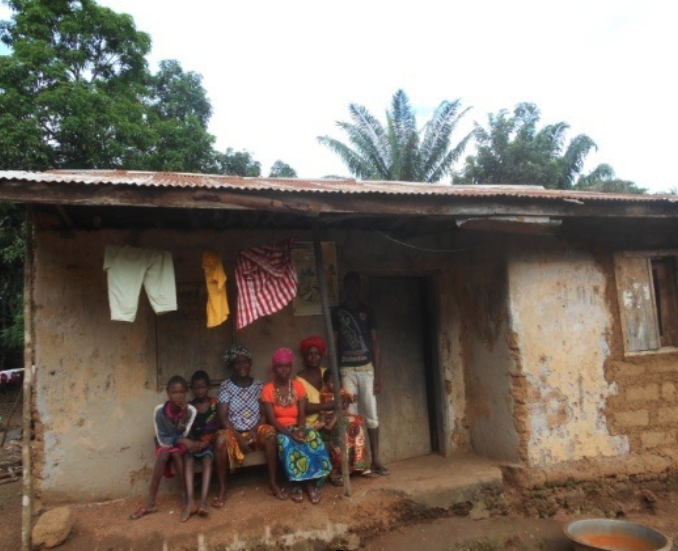 The village has light. In the meantime, all 52 solar systems have been installed.
In cooperation with the company Phaesun ( http://www.phaesun.com/home.html ) in Memmingen) the following technical equipment was chosen and financed:
SHS on the houses:
Energy Comfort Kit Solar Side Kit Three 1.0 1x Solar Side Seven, 2x Solar module 10 W,| 12 VDC,| poly, 1x Super Illu 270 lm, 1x Super Illu 450 lm, 1x Sunflower 270 lm, 2x Illu plug cable 5 m, 2x extension cable 5 m, 1x USB mobile phone adapter set
Health Station:
BOSS KitKeep Fresh, 24 VDC, incl. cable, installation material, module holder, solar charge controller, 2x 140 Wp module, 2x 65 Ah sealed battery
School:
Rural Electrification Kit En Light IG3 1.0,2 LED tubes 11W/1,100 lm, 2 modules 30W, 2 batteries 38Ah

These installed photovoltaic systems enable a CO2 restriction of approx. 15 tons per year!

Mr. Ken Kokker from the Bintumani Association in Sierra Leone, in cooperation with barefoot women solar engineers, helped install the systems and sent us this report:  
This post is also available in: Deutsch