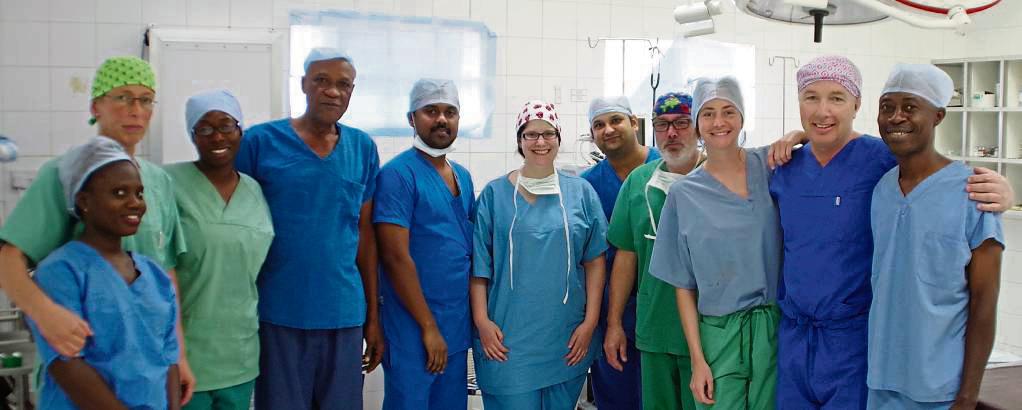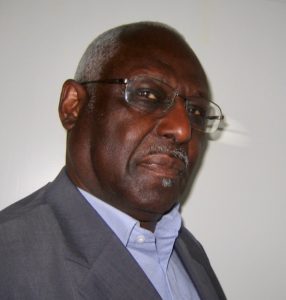 Medical intervention
The country of Sierra Leone has about 6 million inhabitants and currently has only about 160 trained doctors. Of these, only 2 pediatricians. Primary care, first aid, is usually provided by nurses in hospital wards in the villages.
During the trips to his home country, our club member Dr. M.Wright has seen the shortage time and again and developed a project to remedy it with his colleagues. In recent years, during their vacation, they have flown to Sierra Leone and operated on children with physical deformities. In addition to direct help, the focus was on the training of fellow doctors in his country of birth.
In close cooperation with the NGO "Lion for Lion" eligible children are selected. Doctors in Sierra Leone, including Dr. Frances Wurie, Dr. Nelli Bell, take over the preliminary examinations and coordinate the procedure with their German colleagues.
In recent years, more than 800, some of them very complex, child surgery operations have been performed in the operating rooms of Choithram and Connaught Hospital. Due to the Ebola epepedemia, a break had to be taken in 2014-2016. In the coming year, the holiday will again be used for a medical assignment as well as the training of colleagues on site.
.
Doctors in action from Germany
Dr. Morley Wright (pediatrician) with his colleagues

Dr. Tillman Gresing (Specialist in Pediatric Surgery),

Dr. Ibrahim Al-Naieb (children's surgeon),

Dr.. Sarah Al Naieb (Pediatric Surgical Assistant Physician)

Dr. Volker Dreimann (specialist in plastic and reconstructive surgery),

Dr. Heidemarie Fabian-Pittroff,

Frau Dr. Gertrud Kretschmar,

Dr. Kathrin Rüße. (anaesstistin),

Ms Esther Käufler (Anastisistin),

Dr. Sönke Scheunemann (Specialist in General Surgery)

Dr. Sophia Pee (Assistant Physician)

Dr. Esther Lau (Doctor for Pediatric Surgery)
.
Doctors and partners in Sierra Leone:
Dr Sandra Lako (Aberdeens Women Centre, Women's Centre with Children's Outpatient Clinic

Dr. Nellie Bell (Ola During Childrens Hospital)

Dr. Aiah Lebbi (Children's Surgeon Connaught Hospital)

Dr. Tapan (Medical Superindentenf Choithram Hospital)

Nurse of the health ward of "Lion for Lion" in Brigitte Village

Mrs. Madeleine Martin (Lion for Lion) Organizational and linguistic accompaniment)
Reports on pediatric surgery
This flyer promotes the first engagement in 2010.
In the meantime, the 11th deployment will take place in 2020!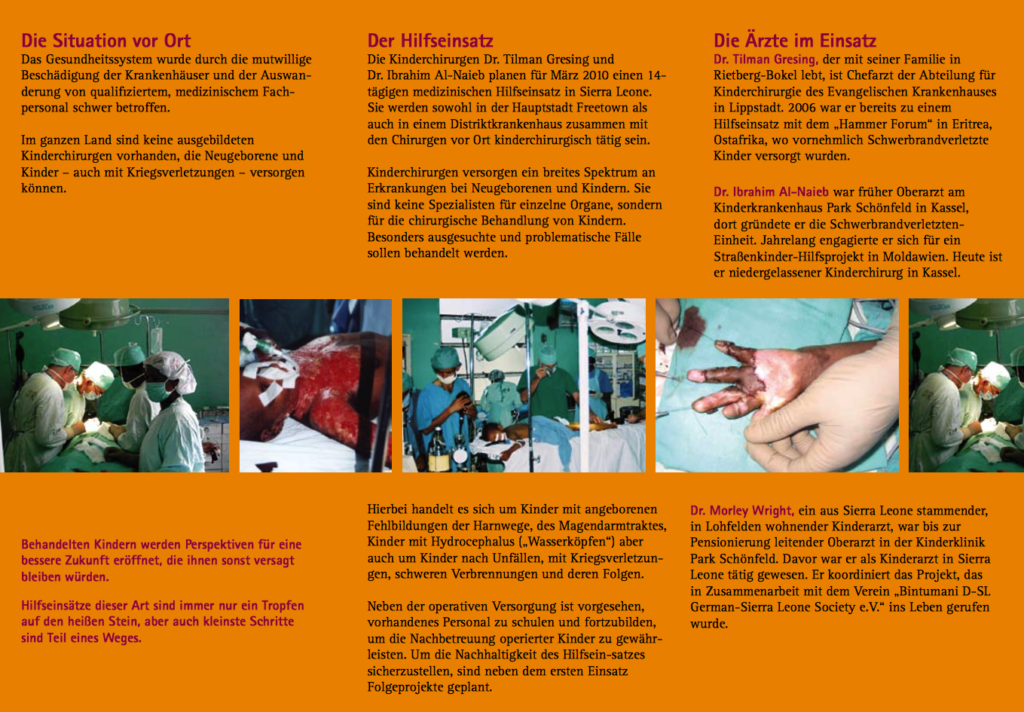 This post is also available in: Deutsch